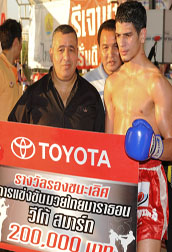 Tournoi Toyota
Le 27 novembre s'est déroulé à Rangsit en périphérie de Bangkok, le Tournoi Toyota avec la participation de 4 combattants Thaï et 4 combattants étrangers, un combattant étranger a été remplacé au dernier moment (Wilfrid Montagne) par un Thaï (Sapapetch Sor Sakaorat). le tournoi passait en direct sur la chaine 7 thaïlandaise à 14h30
Le tirage au sort a été effectué en direct avant le début du tournoi.

The 27th of November in Rangsit on the outskirts of Bangkok saw a big 8 man marathon tournament. Originally the tournament made at 70 kilos was due to have 4 Thai fighters and 4 Foreign boxers, but one foreign boxer was a no show on the day and another Thai fighter took his place. The names were draw in the ring before the action started to see who faced who in the opening fights. The grand prize at stake was 300,000 baht for the winner and 200,000 for the boxer in second place.
Le premier combat était Yasothon Por Pramuk vs Lo-Ngem Nitakruchaeden
Ce fut un combat assez rude des deux côtés mais c'était à l'avantage de Yasothon qui était plus puissant de par sa taille et son allonge lors des 2 premiers rounds, lors du troisième round Lo-Ngem revient un peu grâce à sa vivacité. Lo-Ngem est déclaré vainqueur, la décision a surpris les spectateurs sur place.

Yasothon Por Pramuk vs Lo-Ngem Nitakruchaeden
Yasothon comes straight out and engages Lo-ngern, looking to use his superior size and height to wear Lo-ngern down with some solid knees. Lo-ngern tries to come back with some knees of his own, but looks considerably smaller. In round 2 Yasothon pushes forward again. Lo-ngern starts to open up more now and fires in some solid punches and elbows, but they just seem to bounce off the bigger Yasothon. Yasothon keeps busy throughout, firing in solid knees and hard kicks. Yasothon eases off the pressure in the 3rd round, thinking he is ahead and preferring to stand off and pick off Lo-ngern with bodykicks and long knees. Lo-ngern comes in with a few fast attacks and to the surprise of many in the crowd, takes the judges decision. 
Le deuxième combat opposa deux pensionnaires du RMB, Youssef Adgham vs Sofian Seboussi

Ce fut un combat qui démarra doucement, avec un peu de réticence des deux côtés des combattants. ce fut un combat avec beaucoup de corps à corps avec travail des genoux, le combat est assez équilibré. C'est lors du troisième round que Youssef se démarque avec quelques projections qui le feront passer pour disputer le prochain combat en demi-final.
 Youssef Adgham (RMB Gym) vs Sofian Seboussi (RMBoxing)
Both go straight into the clinch from the opening bell, working with knees to the sides, both look a little reluctant to open up though and the referee has to constantly push them to fight. They stay in the clinch in round 2 and again don't go flat out with their shots, resulting in a few boos and jeers from the crowd. In the final round they again both look to just clinch. Yousef pulls ahead with some clever spins and turns that put Sofian off balance and open for solid counter knees. Yousef goes through to the seni-finals.

Le troisième combat opposa le remplaçant de dernière minute Sapapetch contre Antoine Pinto.
Ce fut un combat à l'avantage du Thaï qui était au-dessus de son adversaire lors du corps à corps mais aussi en jambes, Antoine chercha le coup dur avec ses poing mais en vain, Sapapetch est déclaré vainqueur.

Antuan Sinkboxing vs Sapapetch Sor Sakaorat
Antuan pushes forward from the off, loking to wear down Sapapetch with some strong clinch and knee work. Sapapetch looks considerably smaller, but manages to get off with some fast punches and sharp bodykicks.Antuan keeps pushing forward in the 2nd, but his attacks are not fast enough and Sapapetch picks him off with some more fast, well timed bodykicks and spins him off balance from the clinch.Antuan comes out punching in the final round, but again is not forward quick enough and Sapapetch ties him up in the clinch and fires in fast bodykicks that sees him take the win.
Le quatrieme combat opposa Prakaisaeng Sit O à Karuhat Ekchumpon
Ce fut un combat qui opposait deux styles différents, un technicien contre un puncheur. Dès le début, Karuhat met la pression à son adversaire avec ses frappes lourdes en jambes et en poings. Prakaisaeng lui utilise son allonge et sa technique pour gagner le combat au point.

Prakaisaeng Sit O vs Karuhat Ekchumphon
Karuhat starts fast, with some heavy punches and solid looking kicks. Prakaisaeng looks to use his height advantage a drive in hard long knees. Both open up with solid shots in round 2, with Karuhat looking to time his shots and blast in some heavy roundkicks. Prakaisaeng fires back with more hard long knees and ties up Karuhat in the clinch and drives in hard knees again. The fight stays in the clinch for most of the final round. Karuhat tries to overcome his height disadvantage by coming in low aand trying to lock his arms around the waist of Prakaisaeng, but Prakaisaeng is too tall and strong and fires in hard knees through the middle and takes the points win.

La première demi-finale oppose Youssef Adgham du RMB Gym face au Thai Lo-Ngem

Ce fut un combat très disputé qui tourna en faveur de Youssef, qui a su placer des combinaisons en pieds poings ainsi que des coups de coude. Youssef s'imposa en corps à corps, il fit vraiment la différence ce qui lui permit de gagner son ticket pour la finale.

Youssef Adgham (RMB Gym) vs Lo-Ngem
Now the time has come for the first of the semi-final fights. Yousef looks a different fighter now as he comes forward and opens up with hard lowkicks and punches and knees. Lo-ngern looks the smaller of the two, but his experience at the top level shows as he comes back with hard knees and elbows and spins Yousef off balance. Yousef looks really fired up in the 2nd as he comes forward and opens up with hard knees and elbows. Lo-ngern counters well at first, but starts to look tired as the round progresses and Yousef keeps upping the pace. Yousef looks strong again at the start of the final round and fires in with some more hard knees. Yousef then stands off and looks to save his energy, for if he gets the decision and goes into the final. Lo-ngern comes in with a few bodykicks, but Yousef counters every time and takes the decision.

La deuxième demi-finale opposa Prakaisaeng à Sapapatch
Prakaisaeng gagna le combat par KO avec un low kick.

Sapapetch Sor Sakaorat vs Prakaisaeng Sit O
The 2nd semi-final is a very short lived affair. The fight is barely underway, when Prakaisaeng opens up with several hard lowkicks, sending Sapapetch crashing out of the fight.

La finale opposa Youssef Adgham du RMB Gym à Prakaisaeng
Ce fut un combat très disputé, les deux concurrents utilisaient beaucoup de corps à corps. Youssef est un peu au dessus de son adversaire qui semble être épuisé du tournoi, Youssef semble plus frais. Youssef est donné perdant à la fin du combat malgré sa légère avance. Le vainqueur empocha 300000 Bath et 200000 Bath pour le finaliste.

Youssef Adgham (RMB Gym) vs Prakaisaeng
The final saw both eager to take the main prize. Right from the off Yousef comes forward looking to trade knees in the clinch. Yousef lands some good knees, but every time Prakaisaeng comes back with harder heavier knees. In round 2 the fight stays the same with Both trying to gain control of the clinch. Prakaisaeng shows good skills to turn Yousef off balance and again looks like he is landing with the heavier more effective shots. Yousef needs something special to turn the fight around in the last round, but again just tries to battle it out in the clinch. Prakaisaeng stays in front and takes the grand prize.

Un rand merci à Rob Cox pour les photos.